Truck Crossing Signs
(34628)
Whether a dirt road or a large street, Truck Crossing Signs alert both drivers and pedestrians that trucks may be crossing. Trucks can be noisy, disruptive and create dust, so pre-empt complaints with Crossing Signs.
• Truck Crossing Signs come in upto 6 grades of reflective material. All signs are made with only top quality, high grade, durable materials.
• Signs come in a variety of sizes, too.
• Scroll over signs for more details about materials, sizing and pricing. Questions? Call our live support line today.
Custom Traffic Signs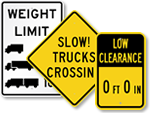 Order the exact traffic sign for your needs! Customize a sign now.
Customer Reviews