40 MPH signs are made with top quality 3M aluminum film and are guaranteed for 10 years.
• Signs comply with MUTCD and governmental safety regulations where noted.
• Speed Limit signs decrease accidents and save lives.
• To view pricing and additional sign details without leaving this page, mouse over the desired sign picture.
Create Your Own Speed Limits!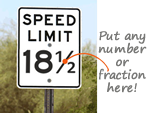 Customize a sign with your desired speed limit number, even a fraction, in just seconds - At NO EXTRA COST!
Speed Limit Signs by MPH
(111198)
Customer Reviews