40 MPH signs are made with top quality 3M aluminum film and are guaranteed for 10 years.
• Signs comply with MUTCD and governmental safety regulations where noted.
• Speed Limit signs decrease accidents and save lives.
• To view pricing and additional sign details without leaving this page, mouse over the desired sign picture.
Look for this Symbol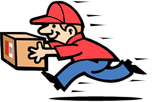 Ships Tomorrow
. Order within
00 hrs 00 mins
© 2019, RoadTrafficSigns.com
Order online 24 hours a day
using secure Google and
PayPal checkout. Pay by: