Our 25 MPH signs are available in a variety of different sizes, colors and reflectivities. Choose from one of the designs below.
• Signs are MUTCD-compliant where noted.
• Scroll over a sign for more details.

Don't see what you need? Use our quick search at the top right corner of this page, or feel free to give us a call and we'd be happy to help!
Create Your Own Speed Limits!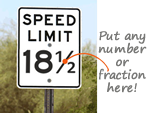 Customize a sign with your desired speed limit number, even a fraction, in just seconds - At NO EXTRA COST!
Speed Limit Signs by MPH
(111185)
Customer Reviews