Signs are the most constant and effective safety method. 10 MPH signs allow you to set the speed to a safe, yet reasonable limit at your school, parking lot or neighborhood. Select from over 20 signs to take control of speeders near you.
• Bold 10 MPH signs keep speeders at bay.
• Post one of these at your factory, parking lot, private road or school zone.
• Heavy-duty, aluminum signs will outlast weather and the competition.
• Can't find exactly what you need? Give us a call and we'd be happy to help!
Create Your Own Speed Limits!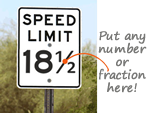 Customize a sign with your desired speed limit number, even a fraction, in just seconds - At NO EXTRA COST!
Speed Limit Signs by MPH
(111173)
Customer Reviews