5 miles per hour is a pretty slow driving speed, but it is by far the fastest way to prevent vehicle-pedestrian accidents. Post one of these signs in a parking lot, driveway, narrow road or school zone to get speedy drivers to drive safer. A sign is a constant reminder that safety is the top priority.
• 5 MPH signs combat accidents.
• Signs are ideal for congested and children-prevalent areas.
• Select from 3 different levels of reflectivity to maximize your sign's night visibility.
• Scroll over a sign for more details.
Create Your Own Speed Limits!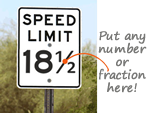 Customize a sign with your desired speed limit number, even a fraction, in just seconds - At NO EXTRA COST!
Speed Limit Signs by MPH
(111204)
Customer Reviews