Control speeders on your freeway but cutting off the driving speed at 55 miles per hour. 55 MPH signs are made from heavy-duty aluminum 3M film and have a 10-year warranty.
• Speed Limit signs decrease accidents and increase safety.
• Signs are MUTCD-compliant where noted.
• We have the lowest prices on the web! Just hover your mouse over a sign to view more details.

Questions, comments, concerns? Give us a call and we'd be happy to help!
Create Your Own Speed Limits!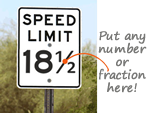 Customize a sign with your desired speed limit number, even a fraction, in just seconds - At NO EXTRA COST!
Other Speed Limit Signs
(78254)
Customer Reviews