Cattle Crossing Signs
(34590)
Whether you want to alert drivers to cattle on your ranch, or just want to make sure that your gates are closed properly, our durable cattle and ranch signs are the favorite of ranchers from Texas to Idaho. Post signs to let drivers know to watch out for cows and prevent collisions. On your own land, post Keep Gate Closed signs to remind employees and visitors to shut the gate behind them.
• Each crossing signs can be attached with a pig-tie or with our handy fence bracket.
• To emphasize the cattle crossing warning, many ranchers add a supplemental "CATTLE XING" sign below the pictogram sign.
Animal Crossing Signs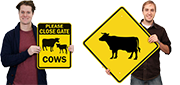 Find 50+ other crossing signs. Signs are offical, durable and, mainly, fun!
Related Cattle Crossing Signs
(69610)
Customer Reviews