Custom Bus Signs let you create your own signs. Post Custom bus signs to organize your parking lot and remind buses where they can and cannot park. Custom signs let you direct specific buses to specific areas or ensure that parking is reserved exclusively for your school buses.
• Signs are easy to customize and perfect for any parking lot.
• Make sure buses come to the right places with customized bus signs.
• Create your own sign now by simply clicking on one of the templates below.
Custom Sign Templates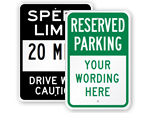 A custom traffic sign lets you easily mention oncoming traffic, change the speed limit, or add custom text to guide drivers through a detour.
Related Bus Signs
(99870)
Customer Reviews
Part #: X-R7-107aR
30" x 12"
High Intensity Grade Reflective Sign, 80 mil Aluminum
Verified Purchase
Great
Great Signs
Part #: K-3967
24" x 18"
Engineer Grade Reflective Aluminum Sign, 80 mil
Verified Purchase
SRO Loved them!
I am a teacher. I bought and donated these signs to the High School where I work, for student safety. The Campus Officer was very impressed with them.