Bus Stops need to be protected from unauthorized parkers and protect the safety of riders. Our extensive line of Bus Stop, Bus Zone and School Bus Stop signs cover all the ground to make your Bus Stop a safe and reliable place for your riders.
• Distinguish and separate your Bus Stop area from School Parking Lot areas.
• Signs are bright and attract attention and will last for years.
• Scroll over signs for more details. Questions? Call our live support for more details.
• For more information, visit our - School Bus Stop FAQs
School Crossing Signs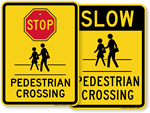 Alert careless drivers to pay attention to protect students and children. Boldly mark school zones and speed limits.
Bus Signs – Related Designs
(34406)
Frequently Asked Questions
Q.
What are retroreflective school bus stop signs?
A.
Retroreflectivity implies that the sign returns a large portion of the directed light beam back to its source. These school bus stop signs appear brightest to people who are closest to the light source; hence, they can be easily spotted by drivers ensuring smooth and organized road traffic.
Q.
Are fluorescent school bus stop signs the same as reflective signs?
A.
No, fluorescent school bus stop signs enjoy higher visibility than their reflective counterparts, especially at riskier times such as dawn and early evenings. These signs combine the high daytime and twilight conspicuity of fluorescent colors with superior nighttime reflectivity and wide-angle performance of 3M microprismatic lens technology. Where standard reflective signs reflect incoming visible wavelengths of light, fluorescent signs also transform invisible ultraviolet rays into reflected visible light, thereby appearing brighter with a visible glow.
Q.
Will I have to drill holes to install my school bus stop sign?
A.
We aim to provide you with a hassle-free experience, which includes pre-punched/pre-cleared holes that make sign installation a breeze - quick and convenient! You may easily mount the signs with the help of screws or clips.
Q.
How long can the text/graphics on a school bus stop sign resist fading?
A.
Our school bus stop signs are printed using 3M screen printing or 3M outdoor digital inks designed specifically for outdoor traffic and parking signs. These signs use 3M matching ink and film components throughout and are proven to last outside. Lamination further enhances the durability of these signs.
Q.
Is there any special discount available for schools?
A.
Please call us on 800 952 1457 or email [email protected] and our team will be happy to help you with the best quote and price.
Q.
Is promotional shipping applicable on international orders?
A.
When valid, promotional shipping is available in 48 US states on all orders except orders containing heavy or oversized items. Promotional shipping is not offered to countries outside the US.
Q.
Can an order be picked up from your warehouse?
A.
We do not offer this facility at the moment. All our products are shipped to the provided shipping address through UPS.
Customer Reviews