Deaf Child signs are necessary for keeping children with little to no hearing safe. A sign can give you peace of mind in knowing that drivers around your neighborhood are driving with extra caution.
• Deaf Child signs grab the attention of drivers to inform them of the possibility of a deaf child nearby.
• Drivers will slow down and drive with greater caution once they are aware that someone may not be able to hear them coming.
• Signs made from reflective, heavy-duty aluminum get noticed by all.
• Also find signs to designate an area for a Blind Child.
Slow Kids at Play Signs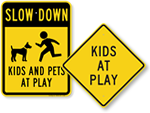 We offer Caution Signs and Children Crossing Signs, in addition to items geared for people with disabilities.
Other Related Crossing Signs
(85287)
Customer Reviews