Deaf Child signs are necessary for keeping children with little to no hearing safe. A sign can give you peace of mind in knowing that drivers around your neighborhood are driving with extra caution.
• Deaf Child signs grab the attention of drivers to inform them of the possibility of a deaf child nearby.
• Drivers will slow down and drive with greater caution once they are aware that someone may not be able to hear them coming.
• Signs made from reflective, heavy-duty aluminum get noticed by all.
• Also find signs to designate an area for a Blind Child.
Look for this Symbol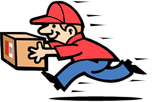 Ships Monday
. Order within
00 hrs 00 mins
Other Related Crossing Signs
(85287)
Customer Reviews
Part #: K-5998
24" x 24"
Fluorescent Yellow Diamond Grade Reflective Aluminum Sign
Verified Purchase
Great signs!
They look great! Thank You!
Part #: K-0228
18" x 12"
Heavy-Duty Aluminum Sign, 63 mil
Verified Purchase
Thanks
I found what I wanted on website easily and was surprised to have it delivered so fast. Even had the choice between girl & boy, which pleased the little girl the sign was for.