Traffic Signs for Kids
(35697)
There's no such thing as being too cautious when it comes to children's safety. Post Traffic Signs for Kids to ensure that drivers think carefully and drive safely. Slow Children at Play signs and Caution Drive Slowly signs are just two examples of these useful signs. All signs come in heavy duty aluminum or high grade reflective signs, which will never rust and are guaranteed to last for years. Watch Out for Children signs are even fluorescent! Browse below to see all our wonderful Traffic Signs for Kids.
Custom Traffic Signs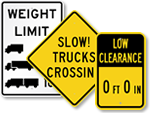 Browse through the collection to find your specific message.
Other Street Signs
(111928)
Customer Reviews