Slow Kids at Play Signs
(41671)
Protect playtime with Kids At Play Signs. Our children's safety is our utmost concern. Promote a message with one of our superb signs.
• Slow signs with clear fonts and graphics attract attention.
• We offer Caution Signs and Children Crossing Signs, in addition to items geared for people with disabilities.
• Bold aluminum signs will withstand harsh weather conditions.
• Our live support team is happy to answer any of your questions.
• For more information, visit our - Slow Kids At Play FAQs
Custom Slow Down Signs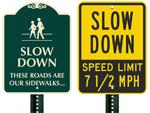 Customize your own Slow Down sign to your heart's desire. Prevent an accident with personalized text
More Children Safety Signs
(73196)
Frequently Asked Questions
Q.
Can I get some safety guidelines on a Kids-at-play sign?
A.
Absolutely! We offer several customizable templates for kids at play sign. You may personalize this Kids-at-play custom sign and add up to eight points to it to convey your safety guidelines.
Q.
Is it possible to get speed limits and neighborhood names on a Kids-at-play sign?
A.
Yes, it is. We offer a variety of customizable Kids-at-play sign templates that let you add information such as speed limit, warning message, community/neighborhood name, and any rules you may want to convey.
Q.
Are your children-at-play signs visible in the dark?
A.
Our children-at-play signs are made of reflective materials that assure high daytime and nighttime visibility. We offer 3M diamond-grade fluorescent signs as well that provide the best conspicuity at the most dangerous times of the day — dawn and early evening.
Q.
Is there a difference between reflective and fluorescent signs?
A.
Yes. Where reflective signs provide high nighttime visibility by returning the light to the source, fluorescent signs absorb the UV light from the sunlight and release these UV rays to appear particularly bright around dusk and dawn. Signs that are both fluorescent and reflective bring together the best of both worlds and promise high conspicuity irrespective of the time of day, thereby ensuring optimum safety for kids.
Q.
Do you offer any portable slow-kids-at-play signs?
A.
We certainly do. You may choose from our heavy-duty reflective cone sleeves and double-sided ConeBoss signs that fit on standard traffic cones and may be moved as desired. Alternatively, you may order a sign base for your aluminum slow-kids-at-play sign and keep a portable sign handy at all times!.
Q.
How long do custom orders take to be delivered?
A.
A custom order is released into production the business day after the proof is approved, and can take about 3-5 business days in production. We try to ensure that every order is delivered within 7-10 business days.
Q.
I run an NGO for kids and I need Kids-at-play signs for my facility. Will I get a special discount?
A.
Please call us on 800 952 1457 and our team will provide you the best quote and price. You may also write to us at [email protected]
Customer Reviews