Deer Crossing Signs
(34591)
Slow down – Deer Crossing! Keep deer and humans safe, to preserve nature and prevent accidents. Give drivers plenty of warning, so they know to be on the lookout. Browse our selection of deer crossing, or other animal crossing signs below.
• Alert drivers to deer migration paths.
• Made from 3M reflective films and durable heavy-duty aluminum, which won't rust, crack, or fade.
• We sell many of these to state, city, county, and public customers.
• Don't see what you're looking for? Customize your sign below.
Custom Highway Signs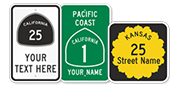 Customization is a breeze; simply add custom text with your company name and adjust the font.
More Crossing Signs
(69594)
Customer Reviews