Designer Pedestrian Signs
(44120)
Say it with style! Our collection of aesthetically crafted
Pedestrian Crossing SignatureSigns
will lay down the rules with sophistication. This exquisite trademark collection of pedestrian signs is found nowhere else. The designs will blend in perfectly with your surroundings, adding a touch of class.
• Several signs available in-stock, ready to be shipped! That's not all… personalize your own pedestrian sign by choosing from our custom templates.
• Beautiful oval and dome-shaped signs in 4 different color options.
• Our signs are built to last for a long time. You won't have to worry about a replacement at least for a decade.
Custom Pedestrian Signs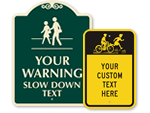 Protect your wandering pedestrians with the perfect Custom Pedestrian Sign for roads and crossings in your community.
Other Pedestrian Signs
(85307)
Customer Reviews