Slow Pedestrian Crossing Signs
(36024)
Slow Pedestrian Crossing signs are the perfect reminder for drivers to slow down and watch for pedestrians. Pedestrian Traffic signs post a safe speed limit to protect pedestrians. A Slow Pedestrian sign or a Slow Down sign can make the difference in an accident.
• Choose from designer signs (in multiple colors!) and our yellow signs which come in heavy duty aluminum and three grades of high grade reflective material.
• Our signs come in a range of speed limits, so you can post the right speed for your road.
• Custom signs make it easy to add your own words. Create a custom Slow Down sign in minutes!
• Scroll over signs for more details. Need help? Call our live support.
Custom Traffic Signs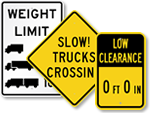 Browse through the collection to find your specific message.
Other Related Pedestrian Signs
(79827)
Customer Reviews