Slow Pedestrian Crossing Signs
(36024)
Slow Pedestrian Crossing signs are the perfect reminder for drivers to slow down and watch for pedestrians. Pedestrian Traffic signs post a safe speed limit to protect pedestrians. A Slow Pedestrian sign or a Slow Down sign can make the difference in an accident.
• Choose from designer signs (in multiple colors!) and our yellow signs which come in heavy duty aluminum and three grades of high grade reflective material.
• Our signs come in a range of speed limits, so you can post the right speed for your road.
• Custom signs make it easy to add your own words. Create a custom Slow Down sign in minutes!
• Scroll over signs for more details. Need help? Call our live support.

Slow Pedestrian Crossing Sign (with graphic)
Quick video tells you why our Slow Pedestrian Crossing Signs remain as good as new outdoors for years.
Look for this Symbol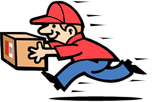 Ships Today
. Order within
00 hrs 00 mins
Other Related Pedestrian Signs
(79827)
Customer Reviews
Size: 24" x 18"
Material Type: Engineer Grade Reflective Aluminum Sign, 80 mil
Verified Purchase
Good sign
Well made.
Size: 18" x 18"
Material Type: High Intensity Grade Reflective Sign, 80 mil Aluminum
Verified Purchase
Happy customer!
I'm impressed with the quality! I'm glad I made the purchase. Thank you!
Size: 8" x 15"
Material Type: Reflective "No-Tip" Traffic Cone Sign - Two Sides Printed
Verified Purchase
Every concerned parent or property owner should order these.
Great product. Highly recommend it.
Size: 18" x 12"
Material Type: Heavy-Duty Aluminum Sign, 63 mil
Verified Purchase
Slow pedestrian crossing sign
good quality sign, 100% recommended
Size: 18" x 12"
Material Type: Heavy-Duty Aluminum Sign, 63 mil
Verified Purchase
Made exactly as you want .
Quick, easy and exact