Funny Speed Limit Signs
(42195)
Need a laugh? These funny signs remind people to take the speed limit seriously.
• Choose from four grades of top grade reflective material. Fluorescent Signs have the highest visibility, even at dusk and dawn.
• Perfect for local neighborhood streets, these humorous signs may not meet speed limit regulations but they will make you laugh!
• Humor is the way to every driver's heart. Scroll over signs for more details. Questions? Call our live support team today.
Custom Speed Limit Signs

If too many people seem to be trying to drag race on your property, you should post a Custom Speed Limit Sign to remind them to slow down.
Look for this Symbol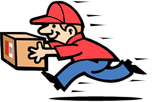 Ships Tomorrow
. Order within
00 hrs 00 mins
Customer Reviews
Size: 24" x 18"
Material Type: Reflective Aluminum Signature Designer Signs
Verified Purchase
Custom Signs - Not to be beaten!!
Absolutely delighted. Great quality. Super fast delivery. Thank You!
Size: 24" x 18"
Material Type: Engineer Grade Reflective Aluminum Sign, 80 mil
Verified Purchase
Speed Limit Sign
Very professional sign