Funny Traffic Signs
(37243)
Need a laugh? Try our
funny traffic signs
. Perfect for gifts or for your own home.
• Made from the same durable, heavy-duty material as the rest of our signs.
• Produced with 3M inks and films. Guaranteed to last over 10 years.
• Questions? Give our customer service team a call.
Funny Parking Signs Too!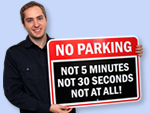 Choose from a huge selection of Funny Parking signs. A lighthearted sign makes a great gift.
Other Novelty Signs
(64540)
Customer Reviews