Novelty Traffic Signs
(64530)
Novelty traffic signs
are made just like our official DOT highway signs — using the same quality materials and 3M inks.
• Novelty signs use durable, tough aluminum and reflective films and inks.
• Find both in-stock novelty traffic sign designs as well as easy templates.
• Add your name, address or favorite city to one of these official designs.
Funny Traffic Signs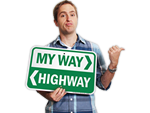 It's hard not to smile when you scan through our line of hilarious traffic signs.
More Novelty Signs
(64533)
Customer Reviews