Reflective Logging Signs
(71378)
Durable signs are made using 3M films and heavy duty aluminum and are the favorite of commercial cutters, forestry operators and private property owners. These sign outlast flimsy lightweight corrugated plastic, roll-up or mesh signs. These traffic-grade signs have a 3M warranty of 10 years and take abuse.
• Order logging signs in a range of highly reflective surfaces. Our fluorescent reflective signs are the specified by the DOT for use in work zones. This material provides superior visibility at dawn and dusk, which are precisely the times that are most dangerous for your crew.
• Signs are also easy to customize. Create your own logging warning message.
• Please note that 24" x 24" diamond signs measure 33.5" in height.
Flagger Signs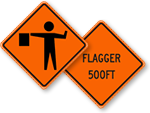 Hard-to miss fluorescent signs save lives. Slow down – we're workign ahead.
Customer Reviews