Help direct traffic through a road under construction with the use of Flagger and Flagman Signs. Install these signs to notify oncoming traffic of the flagger.
• Our range of Flagger signs include pictorial flagger signs and signs supplemented with the distance in miles.
• Sign designs meet MUTCD standards.
• Made using high quality reflective aluminum, our reflective signs are easily visible even when it is pitch dark around. Choose from three grades of reflective aluminum for optimum reflectivity.
• Signs are durable and carry a 10-year warranty.
Detour Signs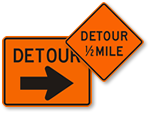 Customize your own sign template with specific text.
Road Construction Signs - Related Products
(80634)
Customer Reviews
Part #: X-W20-7A
24" x 24"
Engineer Grade Reflective Aluminum Sign, 80 mil
Verified Purchase
Nice product, quick shipment
Arrived quickly, nicely made, a few metal burrs (but no big deal).
Part #: X-W20-7A
24" x 24"
High Intensity Grade Reflective Sign, 80 mil Aluminum
Verified Purchase
Flagger sign
Worked well to slow down traffic during our fair.