Help direct traffic through a road under construction with the use of Flagger and Flagman Signs. Install these signs to notify oncoming traffic of the flagger.
• Our range of Flagger signs include pictorial flagger signs and signs supplemented with the distance in miles.
• Sign designs meet MUTCD standards.
• Made using high quality reflective aluminum, our reflective signs are easily visible even when it is pitch dark around. Choose from three grades of reflective aluminum for optimum reflectivity.
• Signs are durable and carry a 10-year warranty.
Look for this Symbol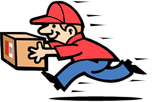 Ships Today
. Order within
00 hrs 00 mins
Road Construction Signs - Related Products
(80634)