People don't always notice when the lanes start to narrow. Post a
merge sign
to alert drivers to upcoming traffic patterns. Help prevent confusion and accidents on your roads with graphics and bold arrows.
• High-quality, reflective signs ensure that drivers know about merging lanes, even at night or through bad weather.
• Browse our large selection of MUTCD signs below.
• Don't see what you need? Give our customer support team a call.
Lane Signs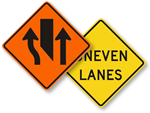 An easy way to alert drivers to changing road patterns.
Other Related Signs
(36650)
Customer Reviews