Everyday is a winding road. Give clear instructions with a
detour sign
to prevent unnecessary stops on highways and point everyone in the right direction.
• Most materials range from standard, rigid aluminum to premium prismatic, reflective diamond grade.
• Order roadwork and slow down signs for a safer drive.
• Customize your own sign template with specific text.
• Check out the options below to find your best detour sign.
Old Detour Signs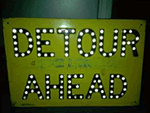 Learn about how the DOT used to build detour signs to optimize reflectivity. Enter, the cat's eye.
Other Related Signs
(34447)
Customer Reviews