Arrow Directional Signs
(34400)
Arrow Directional Signs are an ideal supplement to signs that aid in directing traffic. Choose from our extensive collection of arrow directional signs that help the traffic in your facility in deciding where to go next.
• Choose reflective aluminum for optimum visibility. Reflective signs are also used for emergency and exit markings.
• Resistant to harsh weather conditions, high temperature, abrasion and more, signs last for 10 years outside!
• Our Arrow Signs are printed with 3M digital outdoor inks, designed specifically for outdoor traffic and parking signs.
• Rounded corners render a professional touch to the signs. They also prevent cuts during installation.
• For more information, visit our - Arrow Directional FAQs
Custom Arrow Signs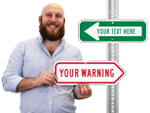 Customize your sign in seconds with directional text and arrows.
Other Directional signs
(84233)
Frequently Asked Questions
Q.
I want arrow signs that match the existing signage on my property. What are my color options?
A.
Arrow Directional Signs come in black on yellow, white on green, red on white, black on white, green on white, white on brown, and green on white. Fluorescent backgrounds are also available. You can choose from any color combination that goes well with your existing signage or decor.
Q.
Do Arrow Directional Signs come with holes for mounting?
A.
Yes. All our Arrow Signs are made of aluminum and come with pre-drilled and pre-cleared holes for easy and quick mounting. With the help of two mounting holes, attach the signs to a post, a wall, a fence, or a post. ? inch holes are top- and bottom-centered on the sign. Even our Arrow Directional ConeBoss Signs come with two holes to be screwed with the cone for a permanent attachment.
Q.
What is the difference between Fluorescent Yellow and Fluorescent Yellow-Green signs?
A.
Fluorescent yellow is designated by the Federal Highway Administration (FHWA) for use on all yellow warning signs such as no-passing zone, stop ahead, yield ahead, and roadway alignment signs such as curve arrows and chevron signs.
Fluorescent yellow-green, on the other hand, is officially required sign-color in school zones or pedestrian/bicyclist areas. In 1992, the FHWA experimented with fluorescent yellow-green signs on 5 pedestrian and bicycle crossings in Washington D.C. The results of the study indicated the Fluorescent Yellow Green signs grab the attention more effectively than yellow.
Q.
How are Directional ConeBoss Signs better than regular signs?
A.
Only our ConeBoss Signs are printed on two-sides for extra visibility in both directions. Other signs are printed on one side only. However, you have the option to choose between left and right arrow signs for some of our designs (look for images showing two signs).
ConeBoss Arrow Signs also provide portability, use as and when you require. They easily fit standard cones without any hassle.
Q.
What are the steps involved in using an "Arrow Directional" stencil?
A.
Start by placing the Arrow Directional Stencil on the desired location - measure and mark to ensure that the stencil is straight, centered, and properly aligned before painting. Simply tape the stencil from all sides on the desired spot, be it ground or a wall, or any other surface. Use standard spray paint to trace out your design. Wait for a few seconds and let the paint dry. Remove the tapes slowly and take off the stencil gently. Now wash excess paint from the stencil and reuse it. Built-up paint will automatically peel off from the stencil. Watch our detailed video on how to use arrow directional stencils.
Q.
After ordering, can I pick my order from your production house?
A.
We do not have this facility, all products are shipped to the provided shipping address through our carriers. While ordering, you can choose your shipping method.
Q.
Is it possible for you to ship my order by using my UPS shipping account?
A.
Most definitely yes. While placing the order you can leave your UPS account # in the instruction box and we will ensure to ship your order using your UPS shipping account.
Customer Reviews