Arrow Directional Signs
(34400)
Arrow Directional Signs are an ideal supplement to signs that aid in directing traffic. Choose from our extensive collection of arrow directional signs that help the traffic in your facility in deciding where to go next.
• Choose reflective aluminum for optimum visibility. Reflective signs are also used for emergency and exit markings.
• Resistant to harsh weather conditions, high temperature, abrasion and more, signs last for 10 years outside!
• Our Arrow Signs are printed with 3M digital outdoor inks, designed specifically for outdoor traffic and parking signs.
• Rounded corners render a professional touch to the signs. They also prevent cuts during installation.
Custom Arrow Signs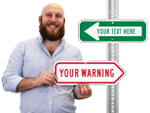 Customize your sign in seconds with directional text and arrows.
Other Directional signs
(84233)
Customer Reviews