No Thru Traffic Signs
(34100)
Life is a highway, but your private road is not.
No thru traffic signs
prevent drivers from crossing through your private road, drive, or lot, and help protect your privacy.
• Post signs to minimize unwanted traffic and noise.
• Heavy-duty reflective materials allow drivers to see your message at night.
• Check out our durable signs below for more details.

Don't see what you need? Give us a call if you have any questions.
Custom One-Way Signs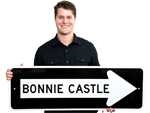 Our custom signs are made with high quality materials and are guaranteed to last for over 10 years.
Related No Thru Traffic Signs
(69511)
Customer Reviews