Mark dead ends with MUTCD-compliant signs, so drivers don't get stuck on a road to nowhere.
• Keep vehicles from making hazardous turns and off private property.
• Find in-stock designs and easy-to-customize templates. Just add your warning message or special instructions.
• Mouse over a design to see a preview of sizes and prices. Signs are MUTCD-compliant where noted.
No Outlet Street Signs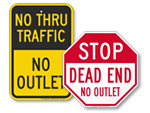 Post No Outlet signs letting drivers know that there is not another exit on the road.

Dead End Signs
Know why our Dead End Signs are preferred by loyal customers over 1000s of others available in the market.
Other Signs for Dead End Roads
(34436)
Customer Reviews