Mark dead ends with MUTCD-compliant signs, so drivers don't get stuck on a road to nowhere.
• Keep vehicles from making hazardous turns and off private property.
• Find in-stock designs and easy-to-customize templates. Just add your warning message or special instructions.
• Mouse over a design to see a preview of sizes and prices. Signs are MUTCD-compliant where noted.
• For more information, visit our - Dead End FAQs
No Outlet Street Signs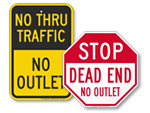 Post No Outlet signs letting drivers know that there is not another exit on the road.
Other Signs for Dead End Roads
(34436)
Frequently Asked Questions
Q.
Are bilingual Dead End signs better than monolingual signs?
A.
Bilingual Dead End signs work better than their monolingual counterparts by bridging the language barrier significantly and communicating the warning to a wider audience. We offer this sign in both standard aluminum and 3M engineer-grade reflective aluminum formats.
Q.
Can your Dead End 'SignatureSign' signs be posted on public roads?
A.
Our designer Dead End Signs in the SignatureSign Series are created as a classier option for private use. Although these include the yellow diamond-shaped dead-end warning, these signs are not MUTCD-compliant and should not be used on public roads.
Q.
Does your Dead End ConeBoss sign come with a cone?
A.
Our Dead End ConeBoss signs are double-sided traffic cone tops with an injection-molded no-flop design. These do not come with a cone but are designed to fit over most standard traffic cones. You can always buy traffic cones separately from our site.
Q.
How can I know which of your Dead End warning signs is MUTCD-compliant?
A.
You may see the MUTCD compliance note on the product page of a MUTCD dead end sign, as seen here. Information regarding the corresponding MUTCD standard is also provided on the product page.
Q.
We need Dead End signs for our neighborhood. Can I get a quote?
A.
Please email us at [email protected] with your requirements and our team will share the best possible quote with you. You may also call us on 800 952 1457 for more assistance.
Q.
Will I be charged shipping on a Dead End sign order?
A.
Please note that promotional shipping is offered on selected products only. You may see whether promotional shipping applies to your order during checkout.
Customer Reviews