Private Road Signs
(4292)
Limit traffic and keep your home safe and quiet with a
private road sign
. A helpful message gives you control over who's on your property. A sign is always there, even when you aren't.
• Bold, heavy-duty durable aluminum lets unwanted visitors know you're serious about your privacy.
• Weatherproof signs last for over 10 years.
• Choose from a variety of shapes, sizes, and materials below, including designer, dome, and custom signs.
Designer Private Road Signs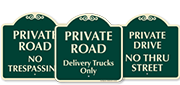 Keep private property protected without worrying about a sign detracting from your landscape.
More Private Road Signs
(34243)
Customer Reviews