No Motorized Vehicles Signs
(46796)
Whether it's because the road is unsafe or you want to prevent trespassing, make sure drivers know where they should not go.
No Vehicles Signs
can be used to stop ATV's, motorcycles are standard vehicles from your property.
• Reflective signs can be seen at night and are a requirement for publically accessible lots and roads.
• Mouse over each sign to see product details, price, material and more.
Do Not Enter Signs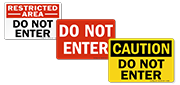 Start with a custom template to create your own sign in seconds.
No Vehicles Signs - Related Products
(78367)
Customer Reviews