Not all roads are meant for Truck traffic. Low clearance, weight limits and other road conditions restrict Truck Traffic. Redirect trucks to more suitable routes using our wide range of signs. No truck signs alert drivers when trucks are not allowed, while No Idling signs remind truck drivers of the rules.
• Browse our huge selection of No Truck and other Truck signs below.
• All signs are made of aluminum and will not rust, even as they last for years.
• Scroll over signs for more details.
Truck Traffic Signs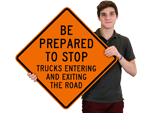 Truck Traffic Signs alert drivers of large motor vehicles approaching, therefore everyone must utilize caution.
Other Truck Traffic Signs
(36074)
Customer Reviews