Proceed With Caution Signs
(105626)
It's better to warn motorists of the risk ahead on the way and tell them to proceed with caution.
Proceed with Caution Signs
help prevent unnecessary collisions and accidents. Our signs are ideal for marking blind spots, overhead crane areas, crosswalks, construction zones, and high traffic areas head.
• Along with metal signs, you also get the option of reusable plastic stencil and anti-skid, adhesive floor labels.
• We also have bilingual sign in our gallery that will reach a larger audience.
• Aluminum signs come in three grades of reflectivity: Engineer grade, High Intensity, and Diamond grade. Take your pick!
Slow Down Signs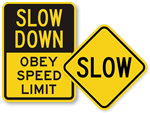 Use a slow down sign to maximize safety.
Other Slow Traffic Signs
(111838)
Customer Reviews