Save lives fast! Slow Down signs prevent accidents daily. Choose from a huge selection to put near a construction site, school, blind corner, hill, etc. Quickly grab attention with a Slow sign.
• Slow signs get noticed on the road by all drivers - protect pedestrians, motorists, and animals with a bold sign.
• Yellow and reflective, these signs are sure to be seen during any time of day.
• Scroll over a sign with your mouse to reveal further information about pricing and material.
Slow Down Speed Limit Signs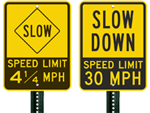 Posting signs remind people that the speed limit will be enforced.
Related Slow Signs
(109150)
Customer Reviews