School Traffic Signs
(35673)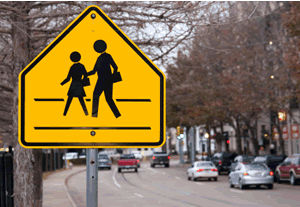 The MUTCD requires reflective yellow and yellow-green signs to regulate traffic around schools and playgrounds. Reinforce these regulations by posting signs for school speed limits, school crossing signs, and school bus stops.
• All signs are designed to conform to the Manual on Uniform Traffic Control Devices (MUTCD).
• Heavy-duty aluminum signs come with three grades of reflectivity: engineer grade, high-intensity grade, and diamond grade.
• School traffic signs are printed with outdoor digital ink and are guaranteed for 10 years.
• Signs are punched with holes for easy installation.
Pedestrian Crossing Signs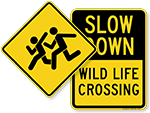 Alert drivers to slow down and look out for pedestrians. Striking yellow, reflective and fluorescent signs.