Share the Road Signs
(34324)
Roads are not just for cars! These reflective Share the Road Signs emphasize that other types of vehicles and even animals use the road too.
• These MUTCD Share the Road Signs are the same that we sell to our large public customers such as cities or counties. Made from heavy duty 80 mil thick aluminum and branded 3M reflective films, these designs outlast weather and abuse.
• Order signs with fluorescent diamond grade reflective material for superior visibility at at all times.
• To see all of our bicycle signs, in one place, click here.
Bike Lane Signs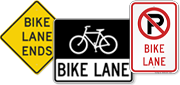 Install Bike Lane Signs to define areas exclusively meant for bicyclists.
Other Related Bike Signs
(34664)
Customer Reviews