Whether you live in a city, the suburbs or the country, Bike Route signs help label roads and direct bikers. Specially marked bike routes ensure that bikers can cycle quickly and safely without worrying about pedestrians or cars.
• Our high quality reflective Bike Route signs and arrows make sure that paths are marked clearly even at night.
• Choose from our large selection of Bike Route signs, as well as the webs largest selection of Bicycle Traffic signs.
• Scroll over designs below for more details.
MUTCD Bike Directional Signs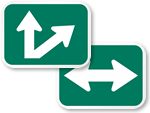 Arrow traffic signs direct vehicles and prevent accidents with plain and simple directions.
Other Bike Related Signs
(35572)
Customer Reviews