Two Way Traffic Signs
(34472)
Whether your traffic emerges from a one way street or you are leaving a parking lot onto a two way street, these two way signs give your drivers a heads up. Signs remind drivers that they must exercise caution when entering a two-way road.
• Diamond warning signs are our most popular designs and make alerting drivers of changing road patterns easy.
• Orange 2-Way traffic signs are commonly used for work zones.
• Signs feature durable 3M branded reflective film and 80 mil thick aluminum.
• Scroll over signs for more details.
• For more information, visit our - Two Way Traffic FAQs
Reversible Lanes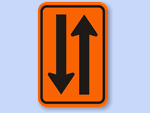 The History of Reversible Lanes
Related Traffic Signs for Two Way Roads
(34523)
Frequently Asked Questions
Q.
Are fluorescent yellow two-way road signs MUTCD compliant?
A.
Fluorescent yellow is approved by the U.S. Federal Highway Administration (FHWA) for use on all yellow warning signs such as no-passing zone, stop ahead, yield ahead, and roadway alignment signs such as curve arrows and chevron signs. These signs are uniquely conspicuous at the most dangerous times of the day — dawn and early evenings
Q.
Where can orange 2-way traffic signs be used?
A.
Orange 2-way traffic signs are usually posted on road work zones to regulate the traffic flow and ensure worker safety. We offer these signs in three grades of reflectivity — engineer, high-intensity, and diamond. The 3M Diamond Grade Fluorescent Orange two-way traffic sign is the brightest of all, with high daytime conspicuity and the best nighttime reflectivity.
Q.
How durable are your two-way traffic signs?
A.
Made using heavy gauge, 63 and 80 mil thick rustproof aluminum, our two-way traffic signs come with an outdoor life of at least 10 years. Branded 3M inks and materials used on the signs prevent fading and provide enhanced visibility. You may further extend the life of your sign by opting for the 3M SmartShield POF Laminate during checkout.
Q.
What are the sizes available in two-way road signs?
A.
Most of our diamond-shaped two-way road signs are available in 24", 30", and 36" sizes, with the exception of the Wait diamond-shaped sign offered in 12" and 24" sizes. The rectangular two-way traffic signs come in varied sizes starting from 12"x18" to as large as 24"x48" and 30"x36". Individual sign-specific sizes can be found on product pages.
Q.
Who can I contact for order updates?
A.
You may call us on 800 952 1457 or email
[email protected]
and our team will be happy to assist you. You may also text our customer support experts available on Chat on the website.
Q.
Will you send me an invoice for my order?
A.
Once your order is placed, you will receive the invoice in the order confirmation email from us. You may also reach out to us on 800 952 1457 or
[email protected]
and we will be happy to share the invoice with you again.
Q.
How much shipping do you charge?
A.
There is no blanket shipping cost that we apply to all our orders as the shipping cost depends on factors such as carrier, shipping speed, weight, and distance. Please use the "estimate shipping cost" button while placing the order, enter your zip code, and select your shipping method to find your order's exact shipping cost.
Customer Reviews