Two Way Traffic Signs
(34472)
Whether your traffic emerges from a one way street or you are leaving a parking lot onto a two way street, these two way signs give your drivers a heads up. Signs remind drivers that they must exercise caution when entering a two-way road.
• Diamond warning signs are our most popular designs and make alerting drivers of changing road patterns easy.
• Orange 2-Way traffic signs are commonly used for work zones.
• Signs feature durable 3M branded reflective film and 80 mil thick aluminum.
• Scroll over signs for more details.
Reversible Lanes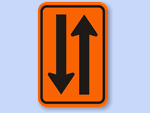 The History of Reversible Lanes
Related Traffic Signs for Two Way Roads
(34523)
Customer Reviews