Sidewalk Closed Signs
(34217)
Choose from our selection of brightly colored signs and our directional signs to best direct pedestrians.
• Choose from our large selection of Sidewalk Closed Signs. Signs are designed to be durable and comply with MUTCD standards when stated.
• Our signs hang easily, so they can be used time and again when construction is underway. Worried construction will take a while? Our signs have a 10-year guarantee.
• See individual products for specific details on compliance.
• Don't see what you need? Try our quick search or call us!
Best Selling Sidewalk Closed Sign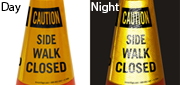 A simple cone becomes your best and easiest Sidewalk Closed sign! Just slip this cone collar over any cone. Put the cone and sign just where it will be seen.

Sidewalk Closed Sign
Watch this quick video to know why our Sidewalk Closed Signs are widely popular and used all over the US.
Other Detour & Crosswalk Signs
(71709)
Customer Reviews