Survey Crew Signs
(99024)
Alert motorists of surveying crews on the highway with premium quality, industrial grade
Survey Crew Signs
offered as aluminum signs and roll-up signs.
• Aluminum signs are reflective, strong, and lightweight. Signs last 10+ years and come with a 3M warranty.
• Choose from three grades of reflectivity in aluminum signs to suit the level of visibility you want.
• Roll-up signs are highly reflective, flexible, and withstand extreme weather without compromising on its structure.
• Roll-up signs are available in four varieties that work well with different type of sign stands to satisfy utility in different work zones.
Roll-Up Signs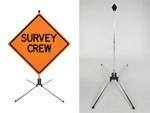 Portable stands are easy to set up and disassemble. Stands are designed to withstand gusty winds
More Related Products
(99027)
Customer Reviews