Men at Work Signs
(36900)
Alert oncoming cars and pedestrians, and protect workers and drivers near a worksite.
• Materials and graphics are MUTCD-compliant where stated.
• Choose a sign below for more details on text and sizes.
• Can't find what you need? Feel free to contact us.
Customize Your Road Closed Sign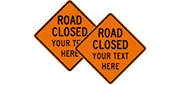 Enter the text to personalize your Road Sign. Change the font, indentation and size if desired.
Road Work Signs - Related Products
(76025)
Customer Reviews