Alert drivers that they are approaching roundabouts or traffic circles.
• All signs are durable, high grade reflective, and easy to hang. Our products are MUTCD-compliant where noted.
• Scroll over signs for more details. Don't see exactly what you need? Call us and our live support would love to help!
Directional Traffic Signs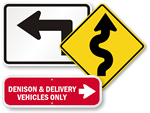 Choose from our wide array of arrow traffic signs. Available in both stock and custom!
Related Merge, Intersection and Side Road Signs
(83600)
Customer Reviews