Drive Safely Signs
(34159)
Our large selection of Drive Safely Signs is designed to be durable and comply with MUTCD standards when noted. See individual products for specific details on compliance.
• Don't see what you need? Try our quick search or call us and we would be happy to help!
Drive Slowly Signs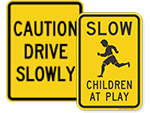 Bright signs attract drivers' attention and remind them to Drive Slowly and stay alert.
Other Drive Safely Signs
(35536)
Customer Reviews