Wind Warning Signs
(64407)
Caution motorists and road users against severe winds ahead. Our Wind Warning Signs notify road users of the unexpected wind gusts which can alter vehicle-handling capabilities.
• Sign is ideal for areas where strong winds or sudden gusts occur, for example, valleys, cuttings, openings etc.
• Bright yellow signs, conventionally used for warning signs, grab attention instantly and caution people on time.
• Bold lettering on the sign is easy to read from a distance.
• Made using heavy-duty, reflective aluminum, signs have enhanced visibility, do not rust and withstand adverse weather conditions.
• Drag your mouse over any of the sign designs below to view detailed price and features.
Snow Emergency Signs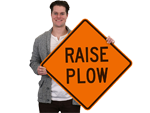 Don't wait for a storm! Post Snow Emergency signs now and be prepared.
More Road Warning Signs
(73952)