Loose Gravel Signs
(64042)
Gravel roads are common on road construction sites, requiring greater driver awareness. On these uncompleted roads, traction and handling become impaired and reduced speeds are necessary. Loose Gravel Signs give motorists a heads up about gravel roads, uneven pathways, and transitional bumps between paved/unpaved thruways.
• Keep drivers safe where loose gravel is lurking - purchase Loose Gravel Signs today!
• Call our customer rep for any road or parking signage needs, we have abundant options in every category!
Road Construction Signs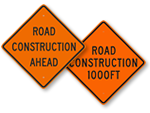 Road construction signs will warn drivers of work areas and will promote safe and cautious driving near your site.
More Road Construction Signs
(64059)
Customer Reviews