Hill Warning Signs
(30592)
With our
Hill Warning Signs
, prevent accidents or car pile ups. These warning signs alert drivers to upcoming hills and inclines and ensure road safety.
• Our high-grade reflective signs are top quality and MUTCD-compliant where noted. Reflective signs are important for truckers who drive through the night.
• Our fluorescent signs offer three times the reflectivity of High-Intensity Grade and ten times the reflectivity of Engineer Grade reflective signs.
• Scroll over signs for details about materials, sizing and pricing.
Slippery Road Signs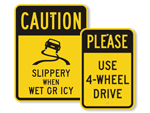 Don't slip and slide! Slow down and watch out for slippery roads.
Hill Warning Signs - Related Products
(36807)
Customer Reviews