Slippery Road Signs
(35592)
Don't slip and slide! Slow down and watch out for slippery roads. Prevent skidding or accidents by reminding drivers to slow down and watch out.
• Slippery Road signs alert drivers before they skid.
• Choose the sign and material that works for you.
• Scroll over signs for more details.
Snow Emergency Signs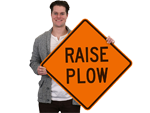 All of our signs are reflective aluminum so they can be seen in a storm and will never rust.
Slippery Signs - Other Types
(34462)
Customer Reviews