Sometimes a 5 MPH sign or a 10 MPH sign just won't do. In those cases, choose our 7 MPH signs! Perfect for outdoor roads, these durable signs look great and last for years.
• Made from heavy duty aluminum, these signs will never rust.
• Bright yellow 7 MPH signs attract attention and help enforce speed limits. So post a 7 MPH sign today!
Create Your Own Speed Limits!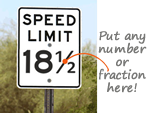 Customize a sign with your desired speed limit number, even a fraction, in just seconds - At NO EXTRA COST!
Related Other Speed Signs
(111885)
Customer Reviews