Custom Shield Sign Templates
(104143)
Shield Signs command attention because of their unique, powerful, and authoritative shape. You can put out almost any strong message on these Custom Shield Sign Templates and it will be noticed without fail. Best part is, we offer free customization so you can have any message printed on our Shield Shaped Signs.
• Creating a perfect Shield Sign is as easy as 1,2, and 3. Choose a template from our gallery below.
• Pick the right size, material, quantity, and hit the "Personalize" button.
• Add your header and text, adjust the font, and you're done!
Custom Signs by Shape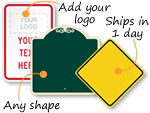 Signs are created with the same materials used for official interstate signs.
Other Traffic Signs
(112309)
Customer Reviews