Farm Gate Signs, Ranch Gate Signs & Cattle Gate Signs
(36528)
Post these useful gate signs to alert visitors and remind employees to proper procedure. Signs remind people to keep your gate closed to prevent animals wandering off. Our signs are perfect for farms and ranches.
• Safety first! Signs help prevent accidents and ensure that gates stay closed and animals stay safe.
• Our heavy duty aluminum and high grade reflective signs are guaranteed to last for years. Even outdoors on your gate, the signs will last up to ten years.
• Scroll over signs for more details. Don't see what you need? We'd love to help. Call our live support today.
Cattle Crossing Signs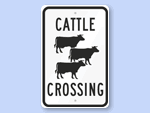 Find a large selection of Cattle Crossing Signs. Our signs come in a variety of styles and words, but all are weatherproof and guaranteed to last for years!
Other Farm Related Signs
(54609)
Customer Reviews