Horse Crossing Signs
(34592)
Durable Horse Crossing and Horse Warning signs last years, even in bad weather. These heavy duty selective signs are made just like our traffic signs that we sell to municipalities and other public entities. In the field they have proven to be easily seen. Choose from our pre-designed signs or customize your own. See the templates below.
• Signs are long lasting and reflective. We use branded 3M components.
• Add a supplemental sign to further instruct motorists as they approach your stable or farm.
• Hover your mouse over a sign for additional information. Have additional questions? Give us a call!
Animal Crossing Signs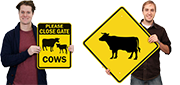 Find 50+ other crossing signs. Signs are offical, durable and, mainly, fun!
Other Horse and Farm Signs
(36892)
Customer Reviews