No Dust Road Signs and Dust Control Signs
(57201)
Road erosion and dust are major problems for rural property owners. Signs help you keep road speeds down and to suppress the dust that a speeding truck generates.
• Also, road dust presents a major hazard, especially on narrow roads. The dangers of not seeing oncoming traffic are obvious.
• No dust signs are used for construction zones, campgrounds, horse areas and farms.
• Unlike oil sprays and other dust control measures, road signs are permanent – they provide a 24/7 reminder to slow down.
Village Speed Limit Signs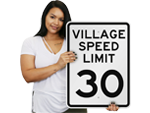 Signs let you decide, create and maintain the atmosphere you want for your village by letting you control the speed limit.
Slow Speed- Related Products
(111829)
Customer Reviews