Road Condition Signs
(36918)
Road Condition Signs
help you warn road users about the condition of the road in advance. Our fluorescent roadway markers like Pavement Ends Sign, Slippery When Wet Sign, and Shoulder Drop Off Sign, etc. offer better visibility and make sure your message is not missed. Whether there's a bump coming up ahead on the street or city-maintained street is going to end, communicate it by installing one of our MUTCD compliant diamond-shaped road sign.
• Our signs provide healthy warning and save vehicles (wheels, chassis, and more parts) from getting damaged ahead in the path.
• All signs have pre-cleared holes to allow hassle-free installation.
• Click on signs for details about price, sizes, and materials offered.
Custom Road Warning Signs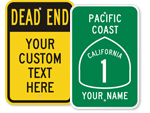 Choose from standard, reflective, or premium signs.
Road Condition Signs - Related Products
(78333)
Customer Reviews