Road Condition Signs
(36918)
Road Condition Signs
help you warn road users about the condition of the road in advance. Our fluorescent roadway markers like Pavement Ends Sign, Slippery When Wet Sign, and Shoulder Drop Off Sign, etc. offer better visibility and make sure your message is not missed. Whether there's a bump coming up ahead on the street or city-maintained street is going to end, communicate it by installing one of our MUTCD compliant diamond-shaped road sign.
• Our signs provide healthy warning and save vehicles (wheels, chassis, and more parts) from getting damaged ahead in the path.
• All signs have pre-cleared holes to allow hassle-free installation.
• Click on signs for details about price, sizes, and materials offered.
Look for this Symbol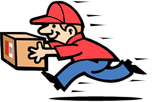 Ships Today
. Order within
00 hrs 00 mins
Road Condition Signs - Related Products
(78333)
Customer Reviews
Part #: X-W8-5
24" x 24"
Fluorescent Yellow Diamond Grade Reflective Aluminum Sign
Verified Purchase
Very authentic
Very authentic
Part #: K-0769
24" x 18"
Heavy-Duty Aluminum Sign, 80 mil
Verified Purchase
Great signs: Large Easy to see, and perfect for my application
These signs are great, very substantial and the paint is impeccable. I put them up and immediately started getting positive feedback from the residents. We have road work done periodically and I needed a way to warn the residents to slow down and be careful..... to protect both the drivers as well as the men doing the road work. These were perfect!