Mark horse trails, horse Xing, equestrian grounds, horse tracks, stables, barns, and other areas where horse traffic is possible, with our
Horse Signs
. Our line of signs is ideal for campgrounds, and helps you communicate important information to visitors and horse owners.
• All sign designs comply with MUTCD design regulations where noted.
• Horse signs make great novelty gifts too! Give one of these to a horse lover and get a million dollar expression in return.
Custom Farm Signs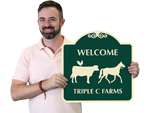 Choose from designer, heavy duty aluminum and reflective signs.
Horse Signs - Related Products
(79761)
Customer Reviews